Chinese Herbal Compound Relieves Inflammatory, Neuropathic Pain
Jan. 2, 2014 — A compound derived from a traditional Chinese herbal medicine has been found effective at alleviating pain, pointing the way to a new nonaddictive analgesic for acute inflammatory and nerve pain, according to UC Irvine pharmacology researchers.
Working with Chinese scientists, Olivier Civelli and his UC Irvine colleagues isolated a compound called dehydrocorybulbine (DHCB) from the roots of the Corydalis yanhusuo plant. In tests on rodents, DHCB proved to diminish both inflammatory pain, which is associated with tissue damage and the infiltration of immune cells, and injury-induced neuropathic pain, which is caused by damage to the nervous system. This is important because there are no current adequate treatments for neuropathic pain.
Moreover, the researchers found that DHCB did not generate the tolerance seen with continued use of most conventional pain relievers, such as morphine.
"Today the pharmaceutical industry struggles to find new drugs. Yet for centuries people have used herbal remedies to address myriad health conditions, including pain. Our objective was to identify compounds in these herbal remedies that may help us discover new ways to treat health problems," said Civelli, the Eric L. & Lila D. Nelson Chair in Neuropharmacology. "We're excited that this one shows promise as an effective pharmaceutical. It also shows a different way to understand the pain mechanism."
Study results appear in the Jan. 20 issue of Current Biology.
Corydalis, or Yan Hu Suo, is a flowering herbal plant that grows in Siberia, Northern China and Japan. People utilize its root extract to alleviate menstrual cramps, chest pain and abdominal pain. It's been previously studied for its analgesic properties, but this is the first time DHCB has been identified, extracted and tested.
Chronic neuropathic pain affects more than 50 million Americans, yet management of this pain remains a major clinical challenge due to the poor results and severe side effects of conventional analgesics. Civelli said that drawing upon traditional Chinese medical-herbal products could lead to a breakthrough treatment for these patients.
Comments by The Woodlands Acupuncture:  Yan Hu Suo, or Corydalis, is a well-known herb in TCM and used extensively for treating pain, especially pain that is associated with tightness, spasms and/or cramping in the chest, abdomen and limbs, as well as for gynecological issues. In animal testing, it was shown to have analgesic, anti-inflammatory, anti-ulcer, inotropic, and muscle-relaxant properties.  Some of its uses are: chest pain, angina, coronary artery disease, arrhythmias, abdominal pain, hernia pain, amenorrhea or mestrual pain, upper limb/arm pain, lower limb/leg pain. It can also be used to relieve painful masses and traumatic injuries.  
It is not to be used by women that are pregnant or with pain due to deficiency.  
For more information about this herb, please contact us at:  http://www.woodlandsacu.com/contact-us or 713.377.1832
Traditional Chinese Medicines Stall Progression of Diabetes
Jan. 16, 2014 — Traditional Chinese herbal medicines hold promise for slowing the progression from prediabetes to an official diabetes diagnosis, according to new research accepted for publication in the Endocrine Society's Journal of Clinical Endocrinology & Metabolism (JCEM).
Prediabetes is diagnosed an individual has developed elevated blood sugar levels, but glucose levels have not yet risen to the point of developing type 2 diabetes. People who are prediabetic face a heightened risk of developing type 2 diabetes as well as heart disease and stroke. According to the Centers for Disease Control and Prevention, about 79 million American adults age 20 years or older have prediabetes.
"With diabetes evolving into a serious public health burden worldwide, it is crucial to take steps to stem the flood of cases," said one of the study's authors, Chun-Su Yuan, MD, PhD, of the University of Chicago. "Patients often struggle to make the necessary lifestyle changes to control blood sugar levels, and current medications have limitations and can have adverse gastrointestinal side effects. Traditional Chinese herbs may offer a new option for managing blood sugar levels, either alone or in combination with other treatments."
During the double-blind, randomized, placebo-controlled trial, 389 participants at 11 research sites in China were randomly assigned to take either a capsule containing a mixture of 10 Chinese herbal medicines or a placebo. For a year, subjects took capsules of either the Chinese herb mixture, called Tianqi, or the placebo three times a day before meals. All participants received a month of lifestyle education at the outset of the trial and met with nutritionists several times during the course of the study. Subjects' glucose tolerance was measured on a quarterly basis.
At the end of the trial, 36 participants in the Tianqi group and 56 in the placebo group had developed diabetes. The analysis found taking Tianqi reduced the risk of diabetes by 32.1 percent compared with the placebo, after adjusting for age and gender. The overall reduction in risk was comparable to that found in studies of diabetes medications acarbose and metformin, and study participants reported few side effects from the Tianqi herbs. Tianqi includes several herbs that have been shown to lower blood glucose levels and improve control of blood glucose levels after meals...
Acupuncture for Breast Cancer Side Effects - New Study
30 December 2013.
A new study finds acupuncture effective for the treatment of breast cancer drug treatment side effects. Acupuncture has been tested in many studies for the treatment of drug side effects. The study focuses on acupuncture for the relief of symptoms due to aromatase inhibitor treatment intake. The researchers noted two interesting findings. First, acupuncture is statistically more effective than clonidine for the treatment of hot flashes due to breast cancer treatment. Secondly, statistical differences between sham acupuncture and real acupuncture did not exist in some quality of life measures determined by questionnaires to participants. Oddly, the publication makes no mention of acupuncture needle techniques, types, brands, lengths, gauges, insertion angles and insertion depths.
Real acupuncture produced a mean reduction of 37% for hot flashes. The researchers note that this is superior to the 20% reduction achieved by the pharmaceutical drug clonidine but less than that achieved by paroxetine (45.6%). The researchers note that acupuncture, unlike the medications reviewed, "was not associated with any significant side effects, whereas clonidine and antidepressants were associated with multiple side effects…."
to read the rest of the article, goto:  http://www.healthcmi.com/Acupuncture-Continuing-Education-News/1228-acupuncturebreastcancercv4cv5ub65.  
Better Preparedness Against Tamiflu-Resistant Influenza Viruses
Dec. 9, 2013 — Influenza is a viral respiratory infection that spreads rapidly and cause widespread epidemics. A severe influenza pandemic is a major health problem and treatment with antiviral medications is a central part of the preparedness plan. Tamiflu is the most widely used drug.

Read the rest of the article here: http://www.sciencedaily.com/releases/2013/12/131209105238.htm
As licensed acupuncturists, we can treat cold and flu symptoms very effectively with not only acupuncture but Chinese and Western herbal medicines.  Several formulals we routinely prescribe were used in combination to help prevent the spread of the H1N1virus in healthcare providers during the 2002-2003 SARS outbreak.  
Research Finds Combo of Plant Nutrients Kills Breast Cancer Cells
Nov. 22, 2013 — A study led by Madhwa Raj, PhD, Research Professor in Obstetrics and Gynecology at LSU Health Sciences Center New Orleans and its Stanley S. Scott Cancer Center, has found that a super cocktail of six natural compounds in vegetables, fruits, spices and plant roots killed 100% of sample breast cancer cells without toxic side effects on normal cells. The results, which also revealed potential treatment target genes, are published in the November 2013 issue of The Journal of Cancer.
"One of the primary causes of both the recurrence of breast cancer and deaths is a small group of cancer stem cells that evade therapy," notes Dr. Raj. "These often multi-drug-resistant cells have the ability to generate new tumors, so it is critically important to develop new approaches to more effective and safer treatment or prevention of breast cancer."
The research team tested ten known protective chemical nutrients found in foods like broccoli, grapes, apples, tofu, and turmeric root (a spice used in Indian curry) before settling upon six – Curcumin known as tumeric, Isoflavone from soybeans, Indo-3-Carbinol from cruciferous plants, C-phycocyanin from spirulina, Reservatrol from grapes, and Quercetin, a flavonoid present in fruits, vegetables, and tea. The researchers administered these six at bioavailable levels to both breast cancer and control cells. They tested the compounds individually and in combination. They found that the compounds were ineffective individually. When combined, though, the super cocktail suppressed breast cancer cell growth by more than 80%, inhibited migration and invasion, caused cell cycle arrest, and triggered the process leading to cell death resulting in the death of 100% of the breast cancer cells in the sample. The researchers observed no harmful effects on the control cells. Further analysis also identified several key genes, which could serve as markers to follow the progress of therapy.
Although the cocktail was not tested against BRCA1 and BRAC2, previous studies have shown that they are molecular targets of four of the six compounds. The researchers also earlier demonstrated that two of the compounds synergize effectively to kill ovarian cancer cells.
According to the National Cancer Institute's SEER Program, which includes data from LSU Health Sciences Center New Orleans, breast cancer is the second most common cancer with 232,340 new cases estimated this year and 39,620 deaths. There are an estimated 2,829,041 women currently living with breast cancer in the United States.
Nov. 15, 2013 — Enhanced extracts made from special antioxidants in spearmint and rosemary improve learning and memory, a study in an animal model at Saint Louis University found.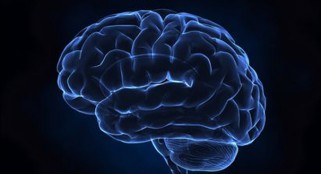 "We found that these proprietary compounds reduce deficits caused by mild cognitive impairment, which can be a precursor to Alzheimer's disease," said Susan Farr, Ph.D., research professor geriatrics at Saint Louis University School of Medicine.
Farr added, "This probably means eating spearmint and rosemary is good for you. However, our experiments were in an animal model and I don't know how much -- or if any amount -- of these herbs people would have to consume for learning and memory to improve. In other words, I'm not suggesting that people chew more gum at this point."
Farr presented the early findings at Neuroscience 2013, a meeting of 32,000 on Monday, Nov. 11. She tested a novel antioxidant-based ingredient made from spearmint extract and two different doses of a similar antioxidant made from rosemary extract on mice that have age-related cognitive decline.
She found that the higher dose rosemary extract compound was the most powerful in improving memory and learning in three tested behaviors. The lower dose rosemary extract improved memory in two of the behavioral tests, as did the compound made from spearmint extract.
Further, there were signs of reduced oxidative stress, which is considered a hallmark of age-related decline, in the part of the brain that controls learning and memory.
"Our research suggests these extracts made from herbs might have beneficial effects on altering the course of age-associated cognitive decline," Farr said. "It's worth additional study."
Patients with mild to moderate ulcerative colitis (UC) were randomized to daily doses of oral Polyphenon E (400 mg or 800 mg of total EGCG daily, administered in split doses) or placebo in a double-blinded, placebo-controlled pilot study. Response was measured by the UC disease activity index and the inflammatory bowel disease questionnaire on day 56.
RESULTS: Twenty patients were randomized to active therapy or placebo in a 4:1 ratio. Nineteen subjects received >1 dose of study medication (15 Polyphenon E, 4 placebo). The mean UC disease activity index score at study entry was 6.5 ± 1.9 in the treatment group and 7.3 ± 1.7 in the placebo group. After 56 days of therapy, the response rate was 66.7% (10 of 15) in the Polyphenon E group and 0% (0 of 4) in the placebo group (P = 0.03). The active treatment remission rate was 53.3% (8 of 15) compared with 0% (0 of 4) for placebo (P = 0.10). Polyphenon E treatment resulted in only minor side effects.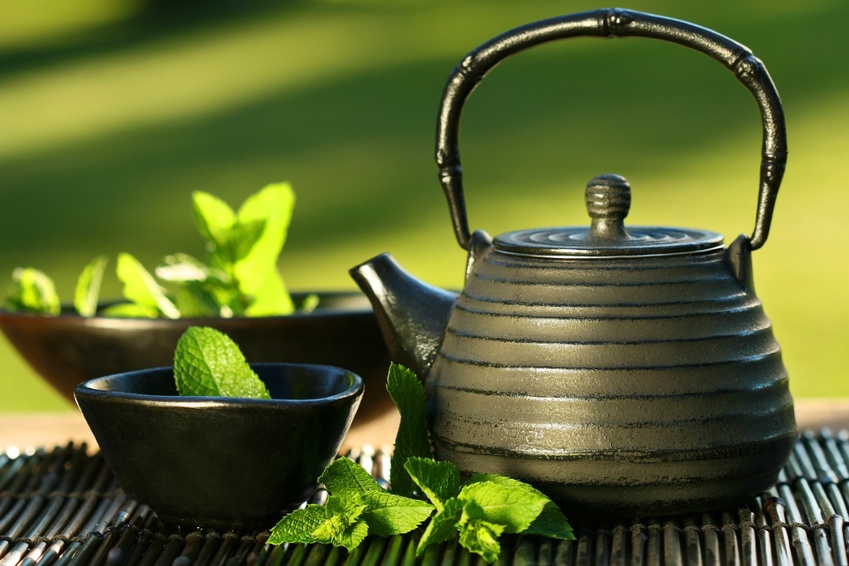 CONCLUSIONS: Administration of Polyphenon E at 400 to 800 mg per day, resulted in a therapeutic benefit for patients who were refractory to 5-aminosalicylic and/or azathioprine. This agent holds promise as a novel option for the treatment of patients with UC with mild to moderately active disease.
Japanese Superfood Prevents Flu Infection
Nov. 6, 2013 — Scientists have discovered that bacteria found in a traditional Japanese pickle can prevent flu. Could this be the next superfood?
The research, which assesses the immune-boosting powers of Lactobacillus brevis from Suguki -- a pickled turnip, popular in Japan -- in mice that have been exposed to a flu virus, is published today in the SfAM journal, Letters in Applied Microbiology.
Lead researcher, Ms Naoko Waki of KAGOME CO., LTD. in Japan said: "Our results show that when a particular strain of Lactobacillus brevis is eaten by mice, it has protective effects against influenza virus infection."
Suguki enthusiasts have often cited its protective powers but it is not known yet whether the same effects will be seen in humans. Human clinical trials using a probiotic drink containing Lactobacillus brevis KB290 bacteria are underway and scientists are hopeful that, given a suitable quantity of bacteria, foods containing them may turn out to be the next superfood.
What it is about the bacteria that gives them this amazing property is not known, but it is remarkably tolerant to stomach juices, which are too acidic for many bacteria. This is largely due to a protective layer of sugars called exopolysaccharides.
"We know that exopolysaccharides have immune boosting effects in other similar bacteria, so we wonder if the exopolysaccharides of KB290 are responsible for the effects we see," said Ms Waki. Further studies will be undertaken to investigate this.
The effect of the bacteria is to increase the production of immune system molecules in the body -- IFN-α and flu-specific antibodies -- and to enhance activity to eradicate virus infected cells. In this study these effects were sufficient to prevent infection by the H1N1 flu and the scientists think that there could also be protection against other viral infections, including the deadly H7N9 flu, which has recently emerged in China.
Oct. 11, 2013 — A recent study by a University of Missouri researcher shows that resveratrol, a compound found in grape skins and red wine, can make certain tumor cells more susceptible to radiation treatment. This research, which studied melanoma cells, follows a previous MU study that found similar results in the treatment of prostate cancer. The next step is for researchers to develop a successful method to deliver the compound to tumor sites and potentially treat many types of cancers.
http://www.sciencedaily.com/releases/2013/10/131011135341.htm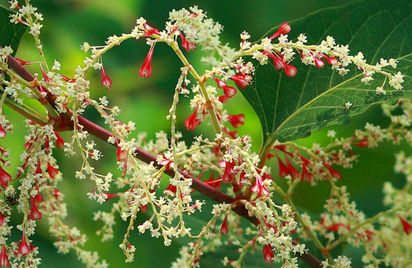 The plant pictured above, Japanese Knotweed (Polygonum cuspidatum), or Hu Zhang, is a plant that it used in Chinese Herbal Medicine and found, through western research,  to contain high levels of resveratrol.  Most resveratrol supplements sold use Japanese Knotweed as a source material.    
Licorice, or "Gan Cao", is one of the most frequently used medicinals in Chinese herbal medicine.  It is said to "enter all 12 regular channels and meridians."  It is sweet in flavor and is commonly used in formulas as a "harmonizing" herb.  Common conditions most used for include:  Fatigue, shortness of breath, loose stools, irregular pulse and heart palpitations.  It is also very good at treating lung conditions such as cough and asthmatic wheezing.  We can also prescribe it when symptoms include spasms in the abdomen or legs, as well as skin infections, sores or carbuncles, which is usually a bacterial skin infection caused by Staphylococcus aureus, or Streptococcus pyogenes.    
Now, western research has discovered another use for Licorice -- read below!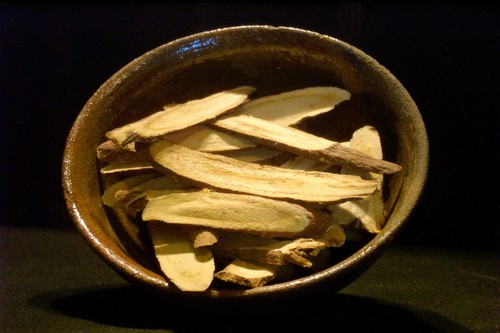 Liquorice Alleviates Troublesome Symptoms Following Intubation
Oct. 8, 2013 — In Traditional Chinese Medicine (TCM), liquorice is regarded as a "panacea." A recent study by the University Department of Anaesthetics, General Intensive Care Medicine and Pain Therapy at the MedUni Vienna has now, for the first time, scientifically confirmed the healing properties of this natural substance.  http://www.sciencedaily.com/releases/2013/10/131008091433.htm